Have you ever *gasp* returned yarn?
There is still no definite date on when we will have our family-get-together with grandma yet. Before I knew that, I went out in a panic and bought some yarn locally for what I thought I would be making my aunt, uncle, and grandma. Didn't really find anything that truly tripped my trigger. I had started the Column of Leaves in the purple sport weight superwash, and got through a couple of repeats, but the yarn just wasn't really saying that much to me. It's okay, nothing spectacular though. I think it might make some great socks, especially in a lacy pattern, but for a scarf, kind of bland. I think that pattern needs something a bit more luxurious, I was thinking along the line of one of the washable cashmere/merino blends like Debbie Bliss Cashmerino or Rowan Cashsoft. Something soft and squishy that you can bury your nose in and feel all cozy. And this yarn wasn't that. So that has been set aside. Here's how far I got. That contrasting yarn is my lifeline, in a bit of Baby Cashmerino I had leftover from Baby H's bolero.
Then I thought for expediency's sake, I'd try something bulky. Hemmed and hawed and found a pattern with some potential,
Natty
. Although I prefer designs with more than one cable, this one could fit the bill. It also says it is reversible, although I don't see what the other side looks like. So I went to town, and half-heartedly bought some gray and forest green Wool-Ease at Joann (I was really wanting a navy blue and a tan) for the supposed fake double-knit hat, and found some sorta interesting novelty type Sensations yarn called "Halo" in a nice red, that was quite soft, on clearance too, which I was thinking for Grandma's scarf, to do in sort of a horizontal wavy pattern, like
the first pattern
. Then off to Hobby Lobby for some Lion Brand
Jiffy
in Plum, plus some
TLC Amore
in Red Velvet as a carry-along to go with the novelty stuff from Joann. And then they sat. I had no desire to pick any of it up. The idea of the clogs is still in the back of my mind, so if I get to the At Home Store where they have Cascade 220 and Lamb's Pride, I think the clogs it will be, and back to Joann's and Hobby Lobby the yarn will go. I sure hope I still have the receipts. I probably can't return the Halo since it was on clearance, but it was the one I spent the least on anyway.
I mean really, what was I thinking?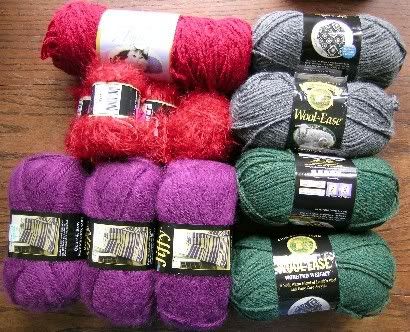 I had been also working on the ruffly hat in the Lorna's Laces for my cousin's baby girl, but after about four inches, realized it would barely fit a doll at about 11 inches in circumference, let alone a three-month-old baby. So I frogged it back to the ruffle and started it again on size 5 circulars instead of the size 2 DPNs. I hope it doesn't end up too loose and holey. No I didn't swatch. I may just have to start it completely over. I really was thinking about making a matching pair of baby socks too if I had enough left after the hat.
So one afternoon, since three out of four kids were spending a few days at Mom & Dad's, I thought I would sort my stash. It was basically overflowing out of the 50-gallon tub it normally resides in, plus some of the skeins and balls were getting loose from digging through it and it needed a general revamping. So several Ziploc bags later, it is improved. I kind of had to rush at the end, R was coming home from work, and I didn't want him to see the extent of the stash, which I'm sure is miniscule by some people's definitions, but still a sizable investment on my part. And while going through, I realized there were some yarns in there I just didn't care for or would ever use. So those may go up for swap or sale. And I still need to organize my knitting needles and other tools. I realized I have no size 4 DPNs, I'm not sure how that ever happened, I think I have every other size from 11 Brittany birches down to 000 in a sock set. I need to find a plastic box that is long enough for the 14 inch needles, the shoe box size ones just don't quite cut it. Although I don't think I plan to keep may straights either, I will probably swap or sell those as well. And my crochet hook set is missing, not that I crochet at all, but handy to have for fixing things. It may be in the bottom of the diaper bag, guess I better check there.
Before unloading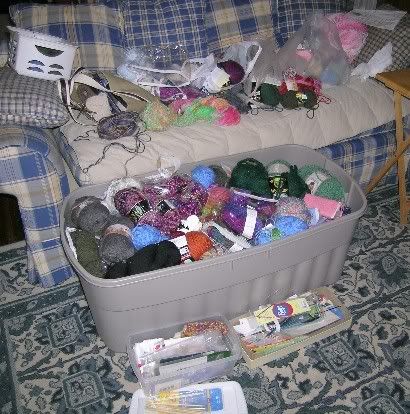 In progress of sorting. Never even touched the knitting implements.